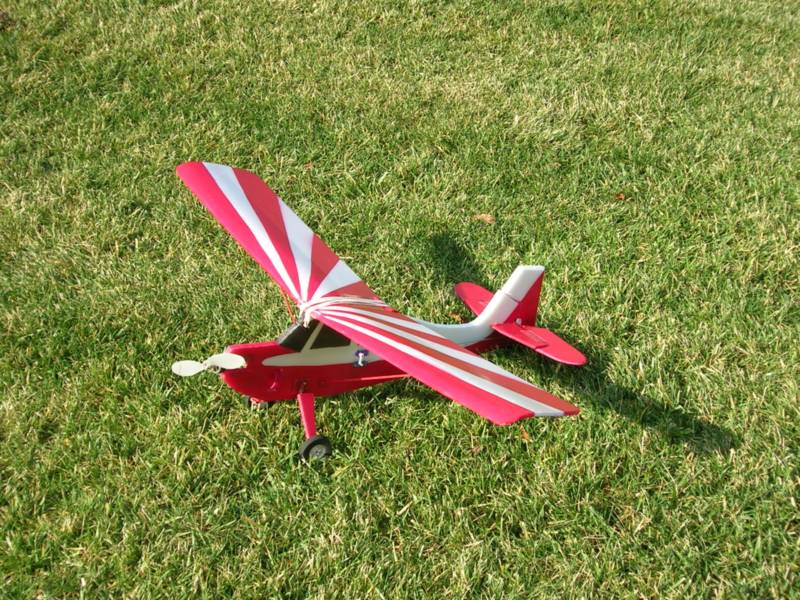 RC Planes
This section of my website is about my hobby of RC planes. I fly electric planes and have been at it for about 2 years. I'm a member of the SWAMPSRC flying club and my planes range from about 14 inches to 55 inches in wingspan. I find building the planes as much fun as flying, and so far I've probably built about 20 planes total.
Current Equipment
Hitec Eclipse 7 transmitter
Hitec Optic 6 transmitter
Castle Creations ESC
Mostly Hacker outrunners and some Himaxx
Berg and Hitec receivers
Whattmeter
DPR-50 inflight data recorder
Great Planes Triton charger
Hyperion EOS 5i charger
Hyperion LBA6 LiPo balancers
Mostly Hyperion and Apex Lipos
Some of the Planes I've Owned (Chronological)
Great Planes Yard Stik - nice flying plane but cheap plastic parts broke too easy.
Mountain Models Dandy Sport/GT - fun little plane I lost on a windy day. Going to build another one of these when time allows.
Mountain Models Magpie - great trainer and also aerial photography plane. Very robust again crashing (except motor mount tends to break but its a 5 minute repair).
Unicorn - nice flying wing, very strong (impossible to destroy I bet).
Space Scooter - fun fast plane but was heavy due to my use of NiMH batteries. Crashed and repairs many times until it couldn't be salvaged any more.
GWS Slow Stik - great slow flying plane. Pretty forgiving to mishaps. Recommended for beginners - its cheap and flies well on NiMH batteries and 60W of power.
STC - built from plans on Internet. Great little trainer plane I love to fly.
Radical RC Mini Stick - fun little plane that is a blast to fly with brushless/Lipo hopup. Use good color scheme cause it will get small fast!
Carl Goldberg Chipmunk 400 - currently one of my favorites to fly. I have a Hacker A20-20L + Apex 3S-2100 battery and it is ballastic. First plane I've had which I felt I could do some real clean aerobatics with almost effortlessly. Only negative is it doesn't like landing on grass and cowl for engine is really expensive to replace.
Extra 330 - built this from plans on the Internet. All 6 mm Depron and is my first attempt at 3D flying. After several horrific crashes its still flying due to the magic of hot glue!
Northeast Sailplanes Samba - newest plane and largest. I'm running this with a Hacker A30-12L and two Apex 3s-2100 batteries in parallel. Flies slow or fast. Still learning about this one.
Latest News
07/14/2006 - Initial posting of this section. Put up some photos of my planes.




All images and content are copyright Michael Fulbright unless otherwise noted.